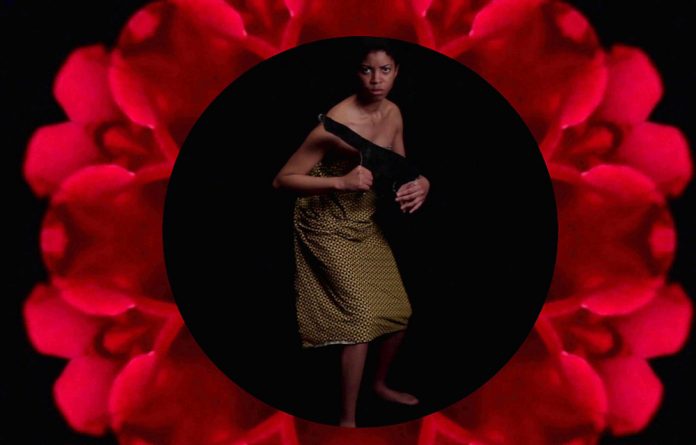 Bopape rattles biennale cage
First published

here

.
Berlin is celebrated as a city that understands contemporary art. Its institutions are not just functional but pristine, and have programming budgets to match.
This is precisely why dozens of leaks dripping from the ceiling of KW Institute for Contemporary Art just don't compute.
It turns out that the leaks, which will continue dripping until September 9, are bespoke; they have been discretely built into the 8m-high ceiling at the request of South African artist Dineo Seshee Bopape, whose work
Untitled (Of Occult Instability) [Feelings]
(2016-2018) is one of two masterstrokes at the recently opened 10th edition of the Berlin Biennale. The second, also by Bopape, is her new film,
Title Unknown at the Time of Publication
, a nightmarish pantomime that tells the story of the rape of a black woman by a white man.
Curated by Gabi Ngcobo in collaboration with four co-curators, this edition of the Berlin Biennale creates a level of visibility for African and Afro-diasporic artists unprecedented in the international art world.
At the same time, Ngcobo and her team are reluctant to have their efforts framed as Afrocentric, and refuse to answer direct questions about their curatorial choices. This comes across as a provocation on their part that is perhaps excessive. But it has succeeded in preventing the outside interpretations of the biennale from settling on historical restitution and identity politics.
In general the Berlin Biennale is hyped as the radical, "experimental" one among the hundreds of global serial mega-exhibitions that today form a highly visible, and lucrative, sector of the contemporary art world. The problem is that the art world is biennaled-out. Biennales, triennials and other serial exhibitions crop up everywhere (except in today's Johannesburg, but that is another story) and have settled into a kind of formula. Every biennale, this one included, has its mix of digestible paintings, whimsical participatory installations and a performance programme that is more or less impossible to keep track of.
The questions of where to place Africa in all this, and whether this exhibition can fix our biennale fatigue (it can't), are revealed as immaterial alongside Bopape's contributions. With ferocity and elegance, she shames our presumptions about what makes a good art institution and reminds us of the art economy's deep colonial roots.
Untitled (Of Occult Instability) [Feelings]
turns the central hall of the KW Institut into a ruin of crushed bricks, tumbled pillars and builders' buckets stationed around the room to catch the dripping water.
Near the entrance to the room a giant ball of cardboard scraps hangs from the ceiling. Titled
Discoball X
(2018), this intervention by fellow-artist Jabu Parnell creates the atmosphere of a cruel and catastrophic party persisting in the aftermath of something awful.
Lit with a deep orange glow, Bopape's environment is a staged destruction site that associates the collapse of structures — architectural, political, colonial — with psychological breakdown. A key to the work is a recording, looped on a small LCD screen, of an excerpt of Nina Simone's performance at the 1976 Montreux Jazz Festival. In this performance, Simone came unstitched on stage, experiencing a protracted mental breakdown that is excruciating to watch but which must have been infinitely more disturbing to experience.
This incongruity between the watched and experienced life of a black woman is just one example of the violence to which the world of culture subjects people of colour. Everyone wants a piece of the brilliance of brilliant black women — but the subjective experience of being a black woman is not accommodated in this economy.
This is fiercely driven home in the film
Title Unknown
, which screens at various venues throughout the biennale. To a South African viewer, the film is reminiscent of the scandal that besmirched former president Jacob Zuma in the mid-2000s, after Fezekile Ntsukela Kuzwayo — the daughter of a Zuma family friend — accused him of raping her.
In Bopape's film, a young black woman is endlessly intimidated and eventually attacked by an older white man, who justifies his actions with the mantra, "I must perform my duty as a man." We see her internal struggle as her attacker invokes an old family friendship to gain proximity to her. The various scenes of his attempted seduction, and her attempted refusal, are warped by low-fi digital effects such as vocal modifications and visual glitches. These give the unfolding narrative a surreal and even cruelly ironic sensibility.
The racial switch of the perpetrator figure steers the film away from a representative retelling of the Zuma rape scandal, and points instead to the spectre of white masculinity as the sun, which is reflected in all abuses of power. It is a strong, polemical point but it needs to be made — particularly by someone who is not a white man.
In South African art, critiques of white masculinity have mostly been made by white men: William Kentridge, Anton Kannemeyer, Ed Young, Pieter Hugo, Kendell Geers, Mikhael Subotzky — the list seems to go on forever. As well-meaning as they may be, these men effectively regulate the terms of their culpability in society; they accuse themselves — of being bad, weak, or victims of their own whiteness — before anyone else has a chance to. With such a direct critique Bopape takes this mantle away from them and places it where it should be: with black women.
During the preview
Title Unknown
competed with incessant birdsong from a hall at the ZK/U, Centre for Art and Urbanistics, but unlike the drips at KW, the birds were not specially recruited. They just happen to live in one of ZK/U's exhibition spaces, a warehouse that is infernal in the Berlin summer and hypothermic in the winter. Situated in a former railroad depot in the slowly gentrifying neighbourhood of Moabit, only a short walk from the local prison, ZK/U lacks the infrastructure of the institutional scene in neighbouring bourgeois Mitte.
Bopape's double feature in KW and ZK/U is a sly rhyming couplet that highlights where and how the art economy situates itself. The further away you are from the local prison the more fake leaks you have to build in the name of art.
The fortuitous avian interruptions that occurred at ZK/U were certainly not lost on Bopape, and may be read as a signal to think again of Nina Simone. Her 1966 song
Blackbird
speaks to the extreme disenfranchisement of black women in the United States during the era of the civil rights struggle.
This is an example of what sets Bopape apart as an artist. Her work is not just "responsive" or "specific" to physical and historical circumstances. Her practice consists of a total mental and bodily sensitivity to context, power, words, forms and relations. To an outsider this comes across as a kind of magic. For Bopape it's simply the minimum condition for making art.